Travel Agents
---
Largely influenced by the psychedelic sounds of the late 60's and early 70's, the Travel Agents' music has evolved into an eclectic mix of danceable rock and roll and good-time originals. It's hard to pin down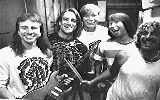 exactly when the band began. It had existed in various configurations since 1986, but 1990 was the year in which the band became what people now know as the Travel Agents. The music finally began to gel, regular rehearsal began, and real paying gigs soon thereafter. The decade-long musical team has only changed with the with the departure of Paul Kelly, who moved to the Bay Area in 1995, and the addition of Scott McDowell in 1999.

In the early days they primarily played Grateful Dead music at private parties and quasi-underground outdoor gigs in the desert, or at places like UCSD's Che Cafe. They played their very first bar gig at Ocean Beach's infamous and now-defunct Texas Teahouse in February of 1991. Since that time, they've played some 400+ shows all around San Diego, plus the occasional appearance in LA, the East County, Mexico, or even Las Vegas. Their repertoire has grown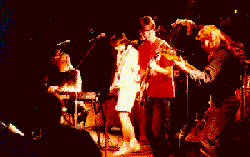 as well. They still play Grateful Dead with great aplomb, but a typical setlist includes healty doses from their own growing repertoire of original tunes, as well as improvisational renditions of songs by Traffic, the Allman Brothers, the Beatles, and even 12-string master Leo Kottke.

They've played some real dives, and they've played San Diego's very finest indoor venues such as 4th and B and the Belly Up Tavern. They generally headline their own shows but occassionally open for national touring acts such as Hot Tuna, JGB Band, Merl Saunders, Rusted Root, Jefferson Starship, and Spirit. A few years ago they shared a bill with former Grateful Dead keyboardist Tom Constanten, who ended up jamming with the band for their whole set. It was a remarkable night, and T.C. has joined them three different times since then.

They still play underground outdoor gigs, where hundreds of people drive for hours to join in the festivities. "It's great playing outdoors. It's a different experience," they explain, and so the horde treks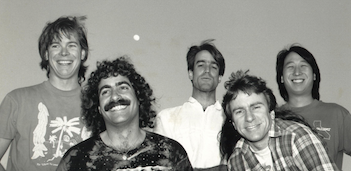 to rural east San Diego county, the outskirts of Los Angeles county, or campsites in Baja California. They've also played several "legit" outdoor festivals including the MTV Spring Break festival when it was in San Diego in 1994. They've also performed several times at the Del Mar Fair, Live on the Bay, and the Pacific Beach and Ocean Beach street fairs.

The camp-out gigs are still a favorite, however. This is, after all, the band that founded both Mountainfest and Baja Bash. The idea is to get a few hundred of your closest friends, find a spot in the middle of nowhere, pitch a tent, build a stage, fire up the generator, and have a grand time till the wee hours. Mountainfest (produced by Heartsings Productions) has traditionally been held in remote areas of San Diego's East County, while Baja Bash (produced by Promised Lands Productions) typically takes place South of the Border, near San Felipe or Ensenada.






Click on your favorite agent!